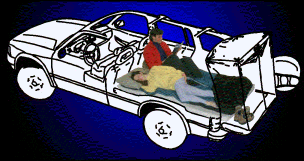 Sleep Like A King on Safari.
Our sleepers are the quickest, easiest, safest, and most versatile outdoor shelter in the world, yet their luxurious comfort will blow you away.

"EXTREME COMFORT"
Our sleepers facilitate a flat, firm, comfortable, elevated floor; protection from lightening, snakes, wind, and animals; swing open/close doors, full bug-free rear and window ventilation, a reclining bed, and overhead dome light, a four speaker stereo, and a rechargeable battery.

"When you find time for camping, wouldn't you rather be playing?"
Our sleepers easily attach in just a few minutes. This can save you all that time and effort spent: looking for a suitable tent sight, preparing the ground, laying a ground cloth, erecting a tent, and securing that tent to the ground.

SLEEP MOST ANYWHERE - ANYTIME
If your vehicle can get you there, we can sleep you there. . This means you can now sleep in the roughest, wettest, and windiest areas; where no tent could ever be comfortably pitched.

NO CAMP REQUIRED
Thanks to our sleeper speed and versatility, you can sleep comfortably without a campsight. The versatile nature of this sleeper makes it easy to find a parking place. And the speed of its attachment makes it possible for you to park the vehicle and be in bed 10 MINUTES later. In the morning you can be gone just as fast. "Just think of the possibilities, for camping and travel."

$$ Save Money $$
When you travel, a sleeper makes it possible for you to use RV and Camping sights. This can save you thousands of dollors every year, and be a lot of fun.

LEAVE ONLY TRACKS
Our sleeper makes it possible for you to do far less damage to the beautiful areas you visit than ever before. LEAVE ONLY TRACKS indicates our commitment to see the environmental impact of camping and other outdoor activities reduced.

There is no better camping system, anywhere. Our sleepers are built in the USA with skill, pride, and the highest quality materials and workmanship. Safari Softshell, Inc. offering a Lifetime Warranty.*
---

XO-Shells for:

Old Isuzu, Rodeo / Honda, Passport

Chevy., Blazer / GMC, Jimmy / Olds., Bravada*--Chevy., Tahoe or Suburban / GMC, Yukon or Suburban*

Old Toyota, Land Cruiser / Lexus, LX 450*

&


A Shrink-to-Fit Omni-Shell for most any covered vehicle with a dropdate including, but far from limited to:

old Toyota 4Runners

2 door Chevy Blazer
Broncos, Jeeps, Trucks with a Top... with or without Swing-out Spare tire carriers, Roof Racks...
In short,
MOST EVERYTHING WITH A DROPGATE.
---
All our sleepers are made of 200din. Nylon Oxford cloth, with 1oz. Urithane and flame-resistant coatings. This cloth is more than three times heavier than practically all nylon tents made today. We also use soft, mildew resestant Evolution cloth to reinforce the sleeper, and protect vehicle paint. All this together with fatigue-resistant elastic cord, super strong nylon cord, and thread, make our sleepers truely dependable.
All our sleepers are made right here in Salt Lake City, Utah, by an army of talented home sewers. These people take special care to do the job right the first time. Because of the unique nature of this in-home work opportunity, this quality work force takes great pride in their results. This difference you will notice.
Experience one of our products and you will see our unwavering dedication to quality, and our joy in sharing it with you.
---

*LIFETIME WARRANTY
All of our products are made in the USA with skill, pride, and the highest quality materials and workmanship. Safari Softshell, Inc. offers lifetime warranty against defects in materials or workmanship. We will replace or repair free of charge any Safari Softshell item which is defective due to manufacturing flaws. Repairs required because of normal wear, accident, or negligence will be made at a reasonable charge. Simply return your clean item to Safari Softshell Service at P.O. Box 701941, SLC, UT 84170-1941. SAFARI SOFTSHELL, INC. PROVIDES NO OTHER EXPRESS WARRANTIES BEYOND THE TERMS OF THIS LIMITED WARRANTY. IN NO EVENT SHALL SAFARI SOFTSHELL, INC. BE LIABLE FOR ANY LOSS OR DAMAGE. IN ANY EVENT SAFARI SOFTSHELL, INC'S LIABILITY SHALL NOT EXCEED THE ORIGINAL PURCHASE PRICE OF THE PRODUCT. This warranty gives you specific legal rights and you may have other rights which vary from state to state.
---
SAFARI SOFTSHELL INC.
1-800-997-4747
T 1-208-747-3605 F 1-208-747-3604
P.O. Box 8, Clifton, IDAHO 83228, USA